Lebensreform




© Copyright Peter Crawford 2013



Lebensreform ("life reform") was a social movement in late 19th-century and early 20th-century Germany, Austria and Switzerland that propagated a back-to-nature lifestyle, emphasizing among others health food/raw food/organic food, nudism, sexual liberation, alternative medicine, and religious reform and at the same time abstention from alcohol, tobacco, drugs, and vaccines.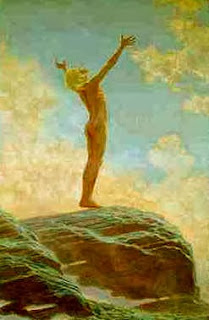 'Gebet zum Licht'
Fidus (Hugo Höppener)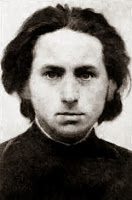 Fidus (Hugo Höppener)

Important Lebensreform proponents were Sebastian Kneipp, Louis Kuhne, Rudolf Steiner, Karl Wilhelm Diefenbach, Fidus (Hugo Höppener), Gusto Graeser, and Adolf Just. Hugo Höppener (1868-1948), who used the pseudonym Fidus was one of the most significant artists of the movement. Depicting nude figures among the natural landscape, not sexualized, but in harmony with nature, and working in cooperation with each other, Fidus gained wide recognition. Several of his works show a male-female couple embracing, not out of lust, but in a kind of Tantric reaching for Deity. His most famous work (of which he made several versions), 'Gebet zum Licht' (Prayer to the Light), shows a man standing on a rock mound, with his arms outstretched to the sky. In 1932, Fidus joined the NSDAP.. Fidus was probably impressed by the National Socialist's environmentalism and romantic portrayals of the German people.



Ideology in Germany



The Lebensreform movement in Germany originally was a politically diverse movement. There were hundreds of groups across Germany dedicated to some of all of the concepts associated with Lebensreform: ecology and organic farming, vegetarianism, naturalism (Nacktkultur), and abstinence from alcohol and tobacco. Dozens of magazines, books, and pamphlets were published on these topics. Some groups were made of socialists, some were apolitical, and some were right-wing and nationalist in outlook. One outstanding prophet of Lebensreform was the painter Karl Wilhelm Diefenbach (1861-1913), pacifist and tolstoyan anarchist who founded the community Himmelhof near Vienna.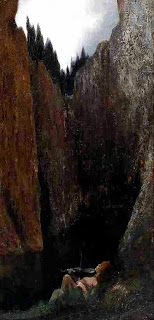 Geige spielender Knabe
Karl Wilhelm Diefenbach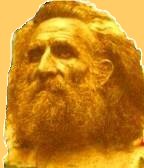 Karl Wilhelm Diefenbach

Karl Wilhelm Diefenbach (February 21, 1851, Hadamar, Duchy of Nassau – December 15, 1913, Capri) was a German painter and social reformer.

Diefenbach was a pioneer of nudism and the peace movement. His country commune in Vienna (1897–1899) was one of the models for the reform settlement Monte Verità in Ascona. His ideas included life in harmony with nature and rejection of monogamy, turning away from any religion (although he was a follower of theosophy, and a vegetarian diet. One of his students was the artist Konstantinos Parthenis.

As a painter he was an independent representative of Art Nouveau and Symbolism.



Among his disciples were three painters: Fidus, Frantischek Kupka and Gusto Graeser. In 1900 Graeser became the co-founder and inspiring pioneer of the community Monte Verità near Ascona, Switzerland. Monte Verità attracted lots of artists from all of Europe, during World War I conscientious objectors from Germany and France.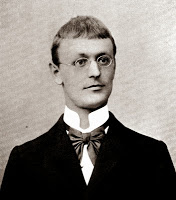 Hermann Hesse

Gusto Graeser, thinker and poet, greatly influenced the German Youth Movement, and such writers as Hermann Hesse and Gerhart Hauptmann. He was the model for the master figures in the books of Hermann Hesse. An important influence on Völkisch ideology was Ludwig Fahrenkrog (20 October 1867 – 27 October 1952) who was a German writer, playwright and artist. He was born in Rendsburg, Prussia, in 1867. He started his career as an artist in his youth, and attended the Berlin Royal Art Academy before being appointed a professor in 1913. He taught at the School of Arts and Crafts in Bremen from 1898 to 1931. He was also involved in the founding of a series of Völkisch groups in the early 20th century. The first group started by Fahrenkrog was the 'Deutscher Bund für Persönlichkeitskultur' (German League for the Culture of the Personality), which also supported a publication called Mehr Licht! ("More Light!", the famous last words of Goethe).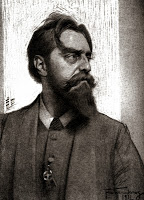 Ludwig Fahrenkrog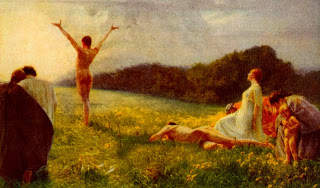 Ludwig Fahrenkrog - The Holy Hour (Die heilige Stunde), 1918

He was also involved with the 'Deutsche Religionsgemeinschaft' (German Religious Community [DRG]), which would later change its name several times, first in 1912 to Germanische-Deutsche Religionsgemeinschaft (Germanic-German Religious Community [GDRG]), then in 1915, following a split in the membership, to the Deutschgläubige Gemeinschaft (Association of the German Faithful [DGG]).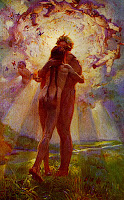 Earth and the Sun Heaven and Earth, Baldur and Gerda
(Erde und Sonne, Himmel und Erde, Baldur und Gerda), 1921
Ludwig Fahrenkrog

Other groups which emerged from völkisch Romanticism gradually became part of National Socialist ideology by the 1930s, known as 'Blut und Boden' (blood and soil).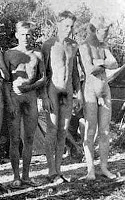 Nacktheit und Kultur

As early as 1907, Richard Ungewitter published a pamphlet called 'Nacktheit und Kultur' (Nudity and Culture) (which sold 100,000 copies), arguing that the practices he recommended would be:
"the means by which the German race would regenerate itself and ultimately prevail over its neighbours and the diabolical Jews, who were intent on injecting putrefying agents into the nation's blood and soil".

The most significant of these Lebensreform movements was the Wandervogel.





---

For an understanding of the wider historic and social context and further movements at the end of the 19th and in the first half of the 20th century, see: